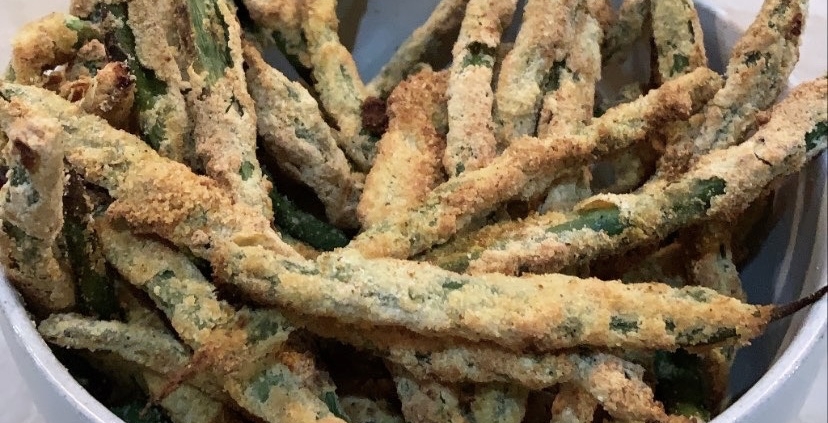 These are not your average boring green beans! Crispy air fried green beans will entice your most finicky eater to give veggies another try.
Healthy eating tends to top the list of New Years Resolutions! There's no doubt that eating a variety of green veggies should be part of that. As a child, I grew up with a large garden and year-round produce. As an adult, finding creative ways to prepare veggies has been a game-changer in getting my family to eat them!
For me, part of eating healthy includes avoiding white flour. I use Paleo Pancake Mix to coat the green beens as an alternative to white flour. Initially, I made a batch with egg whites instead of the whole eggs and they weren't as crispy.
About a year ago, I invested in a Philips Air Fryer. I've had a lot of fun experimenting with different foods and recipes!  Food texture is a big must for me. The air fryer gave a perfectly crispy finish to what otherwise would have been a bland vegetables.
Ingredients:
1 pound+ fresh green beans, stems snipped
1 large egg
1 cup Birch Benders Paleo Pancake Mix
1 tsp garlic salt
1 tbsp Flavor God Everything Spicy Seasoning
Ground black pepper
1) Wash & snip green beans. Pat dry with paper towel.
2) Preheat air fryer to 400 degrees
3) Wish 1 egg in a bowl
4) Mix dry ingredients in a large gallon size ziplock bag.  Toss it a few times to mix ingredients.
5) Pour green beans into wisked egg and mix until green beans are coated.
6) In small batches, use tongs to remove green beans and toss into dry mixture. Securely close the ziplock back and toss until all beans are evenly coated.
7) Place beans in air fryer basket in an even layer. Avoid stacking green beans.  Lightly spray beans with olive oil cooking spray more more crispy texture. Depending on the size of your air fryer, you may need to do 2-3 batches.
8) Cook for 7 minutes. Flip green beans half-way through.
Enjoy plain or with your favorite low calorie dipping sauce!
http://vickidiazfitness.com/wp-content/uploads/2021/01/Green-beans.jpg
1035
828
Vicki Diaz
/wp-content/uploads/2019/05/main-logo-1.png
Vicki Diaz
2021-01-06 19:40:34
2021-01-06 19:40:34
Air Fryer Spicy Garlic Green Bean Fries