Finding healthier versions for family meals is a daily challenge for me.  I've done a lot of experimenting in the kitchen during Stay-at-home orders.  Comfort food has been the first request from my quarantine crew!
This healthier version of pasta and Italian sausage was a hit!  Not to mention, I was able to sneak in some colorful veggies with no complaints.
I used Honeysuckle White Sweet Italian Turkey Sausage. I prefer links rather than ground turkey. You can substitute your favorite Italian sausage.  https://www.honeysucklewhite.com/products/sweet-italian-turkey-sausage-links/
I used Veggiecraft Farms Cauliflower Pasta.  https://veggiecraftfarms.com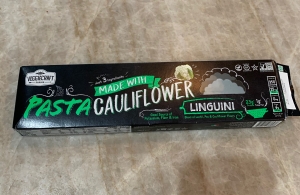 Cauliflower linguine with Italian sausage
Turkey Italian sausage, 1.5 lb.
Cauliflower linguine, 8 oz package.  I used about 6 ounces for this recipe.
1 cup Cherry tomatoes, halved 
3-4 cups raw spinach 
3 Sweet peppers, chopped
1 clove crushed garlic 
1/2 cup Olive oil 
2 tbsp. Basil 
Pink salt
Cracked black pepper
Instructions
Remove sausage from casing and divide into small chucks.  
Cook pasta according to package instructions.
While pasta is cooking, brown sausage in cast iron skillet without breaking the chunks apart. When sausage is cooked evenly throughout, transfer sausage to a plate.
Using medium heat, add about 2 tbsp olive oil to skillet.  Sauté crushed garlic, sweet peppers and tomato. After these veggies start to soften, add spinach, basil and cook for approximately two minutes.  
Reduce heat. Add sausage chunks, cooked pasta and remaining olive oil.  Season with salt and pepper and stir to combine all ingredients. 
Enjoy!
http://vickidiazfitness.com/wp-content/uploads/2020/04/7WbCZy8TYq7ADHq7c35g.jpg
3024
3024
Vicki Diaz
/wp-content/uploads/2019/05/main-logo-1.png
Vicki Diaz
2020-04-30 20:41:32
2020-04-30 20:41:32
Cauliflower Linguine with Italian sausage